NORTH SYDNEY ROOM
GPS: 90 Pacific Hwy North Sydney  NSW 2060 AUSTRALIA
(Cnr Miller St – in Skin Cancer Clinic – next to Medical Centre)
(CLICK ADDRESS ABOVE FOR GOOGLE MAP)

(NO MAIL HERE PLEASE  – Any mail should be sent to the
MAIN CLINIC at Shop 4, 202 Princes Hwy, Sylvania NSW 2224 )
Phone: 02 95222540 – anytime from 9.00am Monday to 12.00pm Saturday. Phone number is at Sylvania.
If using a GPS to locate us, please always remember to enter the POSTCODE, or your GPS may take you many kilometres away from where you believe it is directing you to. Remember that on Highways, the number sequences usually start again in each suburb or municipality.
Open Days at NORTH SYDNEY CLINIC:
Wednesdays & Fridays ONLY
Mon: CLOSED (Open for orders and making appointments)
Tue:  CLOSED  (Open for orders and making appointments)+
Wednesdays: 10.30 – 5.30 (APPOINTMENT DAY NTH SYD)
Thu: CLOSED  (Open for orders and making appointments)+
Fridays:             10.30 – 5.30 (APPOINTMENT DAY NTH SYD)
Sat: CLOSED  (Open for orders and making appointments)+
Sun: CLOSED
+Appointments are at SYLVANIA  CLINIC
on Tuesdays, Thursdays & Saturdays
All Consultations are strictly pre-arranged appointments . We do not provide a call-in and wait service. If you require an appointment or if you are an existing patient & wish to drop by and pick up any medicines, it is always best to ring first so that we can ensure that you are not kept waiting and that what you require is available. We may close earlier than 5.30 pm.
At the North Sydney room, we are situated in the Skin Cancer premises ay 90 Pacific Highway. Their Reception is open Monday to Friday from 9 am until 5.00 pm (sometimes later).
Pickups of medicines by existing patients who wish to pickup on days other than Wednesdays or Fridays, MUST be pre-arranged as access to medicines on Wednesdays and Fridays is only possible during the hours of 10.30 – 5.00 , unless pre-arranged.
A consultation fee is payable for each consultation. This fee may vary so please ask to be advised the current consultation standard cost when you book your consultation.
Getting to us….. RIGHT-CLICK on  table below and SAVE, EMAIL or PRINT as a PICTURE, to assist you in locating us on the day of your Appointment (a Google Map appears below also):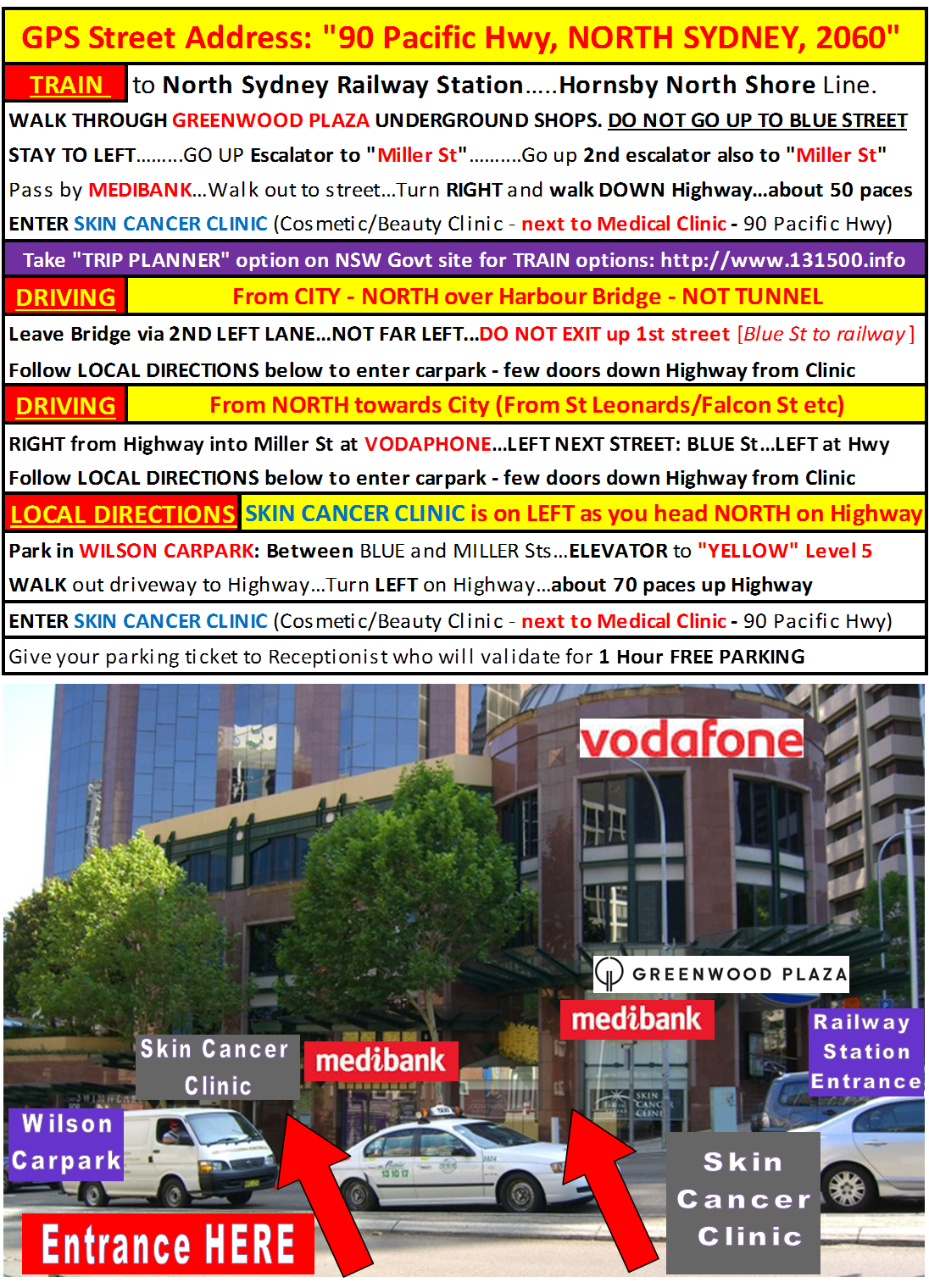 ABN: 26108461749
All the following skin conditions are treated at these clinics: psoriasis, eczema, dermatitis, acne, rosacea, ichthyosis, urticarial (hives), fungal infections, nail infections, general itch, xerosis, pityriasis, and many other conditions including psoriatic arthritis, hormonal and dietary imbalances.
The protocols that we use to treat skin conditions have been developed and honed by Professor Michael Tirant and they are the result of decades of research and patient treatment.
Our protocols rely on evidence-based nutritional and herbal medicine, which include the use of the targeted oral 'Practitioner-Only" medicines, as well as using topical products such as creams, ointments, gels and lotions.
Our mission is to assist patients to clear up the symptoms of their skin conditions and obtain long-term remission of their symptoms. Although some skin conditions, such as auto-immune conditions like Psoriasis, are incurable, numerous patients have cleared up their skin condition symptoms.
These patients can then manage to keep the symptoms at bay for long periods by continuing to maintain the diet and lifestyle changes that we have recommended to them, as based on our protocols.*
*DISCLAIMER: results may vary by person to person